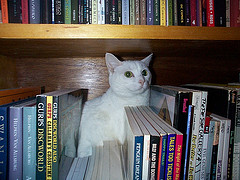 kitanzi woke up this morning and found our cat, Jenna, had slipped away from us in the night. It's unclear at this point what precisely was the cause; she'd been having some distress that we thought at first was hairballs, but may have been a more acute stomach irritation. Last night, when I went to bed, she jumped up next to me and curled up next to my side, as she often did. She was friendly and energetic all evening, so I do not think she suffered long. Whatever the cause, it was sudden and not protracted.
Jenna was one of the sweetest cats I've ever owned. She loved being near people, and I kept a folding table next to my desk with a fleece blanket folded on top of it, so she could curl up next to me while I played computer games. Her favourite spot on the couch was right in front of the arm, curled up against my leg while I'd watch TV, and she slept next to me most nights, at least for a while. She was often shy when someone new came to visit, but eventually she'd venture out and collect the petting that was her due.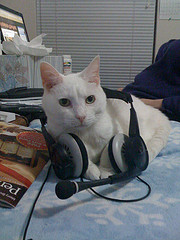 We originally adopted her through the Cat Clinic of Roswell to be a companion for Dayna, who was used to being in a multi-cat household and seemed upset to suddenly be alone. They never did get along the way we'd hoped, but in recent years seemed to have settled into a truce with one another, still not the best of friends, but no longer objecting to the other's presence. I once joked that their relationship had "settled into an uneasy détente, so as long as neither one of then invades Afghanistan, I think we might at least have a sustainable peace."
Back in May, she was suffering from some sort of intestinal inflammation that the vet was convinced was cancer. We were greatly relieved to learn it wasn't, but had no idea how short her time with us was to be. In recent weeks she'd seemed to have been well on the road to recovering her appetite, gaining weight, and generally being more spry and social than she'd been when she was sick. I already miss her more than words can say, and I'm grateful she didn't suffer long.
Good hunting, Jenna, wherever next you roam. You were a joy in our lives, and we are richer for the years you spent with us.