TSP On This Day
Published On: November 20, 2017

Today's challenge invites us to share a song we would sing as a duet with someone at karaoke. After 16 days of difficult decisions choosing which song to highlight, finally here's an easy one. Not only is this a fun song, but it is a favourite memory with one of my favourite people. The very first time I met Julie Wotzko, at Sunnie Larsen's birthday party, we did this song together. We've since reprised it, and even though she's now an ocean away1, I look forward to doing it again sometime.

Here's "The Internet Is For Porn", from the cast recording of the Broadway musical "Avenue Q".
---
do you have to be an ocean away? ↩
Published On: November 20, 2013

As I wrote about over the weekend, I've finally done something I've needed to do for some time, which is find someone to sit down with who can help me expand my guitar toolkit.  Tonight was my first meeting.

They have a nice little setup in the basement of a marina on Lake Union, with two small studio rooms.  I met with my instructor, Mike, and spent a lot of time discussing my background, how I learned, what I was already good at, and so forth.1   Mike is a curious mixture of laid-back and hyper-focused, but I think I'll get along with him.  He had me play a song for him2 just to watch my current style, and then we got down to the brass tacks of what I wanted to learn and how to get there.

We're starting out by refreshing on theory.  Now, I know a bit of theory, because you can't hang out with folks like Gwen Knighton and Mary Crowell without absorbing some stuff just through osmosis, but I've never made a formal study of it.  The last time I had any formal music instruction, I was too impatient to get to the "I wanna play a SONG" stage to really focus on it.  I think I'll be a slightly more disciplined student today.

We did have an entertaining digression talking about Continue Reading →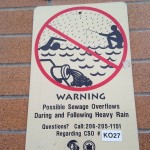 Published On: November 20, 2013

Please do not fish or swim in the sewer.

(Myrtle Edwards Running Trail)

Published On: November 20, 2013

Because we watch TV on the TiVo, we rarely actually see commercials, but a recent ad by cognac giant Hennessey caught my ear,1 mostly due to their slogan juxtaposed with traditional disclaimers that accompany alcohol advertising on television in the US.

NEVER STOP.
NEVER SETTLE.
Please drink responsibly.

I'm not entirely certain those three directions are entirely compatible with one another.  Just sayin'…
---
The text on the screen was just the first two lines.  The voice-over contained all three. ↩
Published On: November 20, 2006

This was too cute not to share. My dear friend (WINOLJ) Dina's son Connor was just overheard in the other room, singing:

You can't be mean to your sister,
even if you're a pirate,
you can't hurt her ears or hit her with sticks
and you can't annoy her just to annoy her,
because my mommy said so,
she said be nice to your sister,
and even pirates have to be nice to sisters

I think that's a good song for today.

Published On: November 20, 2005

So, I kept meaning to post something about this and that and the other thing, and never got around to it, but the week wasn't entirely uneventful. Highlights: