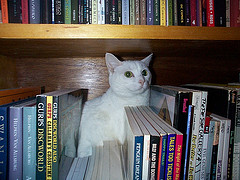 A while back, our cat Jenna had begun getting very finicky about food, and was losing weight at an alarming rate. We took her to the Cat Clinic of Roswell, and they kept her overnight, ran a bunch of tests, and eventually came up with a diagnosis of thyroid problems, put her on medication, and that seemed to be the end of the problem. But recently, we noticed that she was having more bouts of diarrhoea than previously, and had more distressingly picked a couple of spots in the apartment away from the litterbox to deposit this. And she was still thinner than we'd like.
We took her back to the vet, for more tests and, after pancreatic deficiency was ruled out, brought her in for an ultrasound, because the vet was increasingly worried about bowel cancer. The ultrasound found a mass in her abdomen, so today, she's having surgery to have it removed and confirm what it is. There's still a chance that it's not cancer, though I'm trying hard not to get too attached to that idea. Even if it is, we're hoping that it can be excised and that we got to it early enough that even if it later recurs, she'll have several more happy years with us.
Aside from the gastric distress, you'd have no idea she was sick. She's still as active as you'd expect a 13 year old cat to be, and very affectionate and content. It's much too early to contemplate her leaving us. So if you have some good thoughts to spare today, please send them our way.