My darling cadhla wrote a book, as she is wont to do, and then she had that book bought and published by DAW Books, which had up to this point not been her custom, but its one to which she's adapting with great enthusiasm.
Today, September 1st, was the "street date" for the first of her October Daye novels to hit the shelves, and I made a special trip at lunchtime to see if they had it.
I found, neatly filed on the shelf, a solitary copy.
I thought this was odd, since I knew they had several copies on order when i spoke to them a month ago, so I grabbed it and found a clerk. "I know this may seem an odd question," I asked, but do you have any more copies of this book?" he checked, and the computer said they should (and that one copy of their original order had been sold!), so we went looking for it. And it wasn't on the shelves, and it wasn't over here and…..oh, *there* they are.
On the featured paperback display!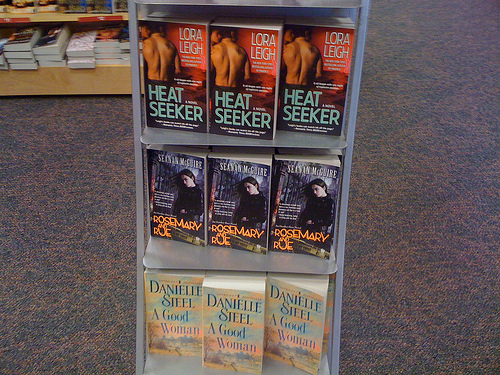 Happy bookday, sweetie. It's been a long time coming