I'm posting this primarily for aiela, because I know it will make her giggle, and she's cute when she giggles.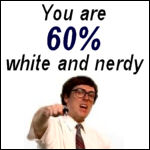 How White and Nerdy Are You?
Universal Press Syndicate has announced that cartoonist Bill Amend, creator of the comic strip Foxtrot, will stop doing daily strips at the end of the year, continuing the strip as a Sundays only feature:
Kansas City, MO (12/05/2006) Bill Amend's popular FoxTrot comic strip will go to a Sunday-only publication schedule as of Dec. 31, 2006, announced Universal Press Syndicate today. The last daily will be Saturday, Dec. 30. Reruns of dailies will be available for Web usage.

"After spending close to half of my life writing and drawing FoxTrot cartoons, I think it's time I got out of the house and tried some new things," said Amend. "I love cartooning and I absolutely want to continue doing the strip, just not at the current all-consuming pace. I've been blessed over the years with a terrific syndicate, patient newspaper clients, and more support from readers than I probably deserve, and I want to assure them all that while I'll be now a less-frequent participant on the comics pages, I'll continue to treat my visits as the special privilege they are."
I'm always sad when a favourite strip retires, so I'm glad there will at least be new Sunday installments, and I certainly don't begrudge Amend the chance to explore new creative outlets. But, darn.