Jumanji: Welcome to the Jungle
Genre: Action/Comedy
Grade: A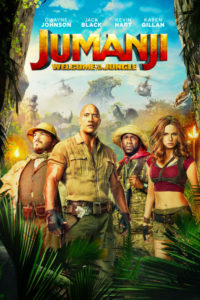 Catching up on DVDs this weekend, becuase there's a big stack of movies we haven't gotten around to seeing.
I know everyone likes to complain about too many reboots and remakes of old favourites, but I have to say that "Jumanji: Welcome to the Jungle" is a wonderful homage to a film I really liked as a teenager, updated to be fresh and relevant to modern audiences.
What? No, I don't mean the 1995 Robin Williams film "Jumanji", which I've never actually seen.
But it is absolutely a wonderful update of the 1985 film "The Breakfast Club". 🙂
Seriously, it really is a tremendously fun movie, and we enjoyed it a lot. I particularly enjoyed the way the four leads played both to and against type, and they certainly seemed to to be having a great deal of fun with it.   This is the sort of ensemble cast that lives or dies on the strength of its cast's chemistry, and Johnson, Gillian, Black, and Hart have it in spades.  It really makes me want to see the four of them do another project together, just to enjoy watching them interact.
If you like well-paced, genuinely funny action-comedies which put as much effort into the action as the comedy, and have a real heart, definitely make some time for it.